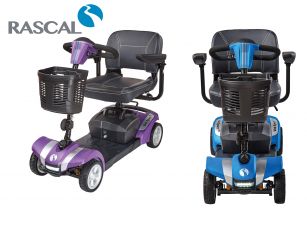 New Veo Sport SR - Spring 2022 launch
Discover the joy of exploring this Spring & Summer
The Veo Sport SR Scooter is a brand new Rascal Model to join the comprehensive range of independence enhancing mobility products for the everyday, essential outdoor travel needs.
The Veo Sport SR is the improved, premium, transportable 4mph scooter offering top performance with greater efficiency and comfort. It combines the functionalities of the well respected and highly successful Veo Sport with its class leading all-round suspension, easy and proven robust take apart mechanism, 22Ah batteries, dual compound soft puncture proof tyres and modern sporty styling.
The detailed white accent stitching on the luxury seat and padded delta tiller with new charging point is focused entirely around the user to ensure comfort alongside convenience. With the battery easily charged, customers will benefit from the range of upto 14.9 miles while enjoying a greater peace of mind for exploring.
Characterised by the two distinctive colours, Neon Blue and Mulberry plus emphasized at the front, with the newly designed LED front headlight and bumper unites both design, functionality and safety, making it unmistakably Rascal. With these additional features, the Veo Sport SR is a definite head turner for any season this year!
New Features for 2022:
Tiller charging point
LED front light
Front bumper
The Veo Sport SR is the next generation version of the now discontinued Rascal Veo Sport, developing the existing great features of the model and enhancing them for the modern user, the Veo Sport SR calls upon an established track record of success from its predecessor.
Visit the product page for full specifications including maximum carrying capacity.