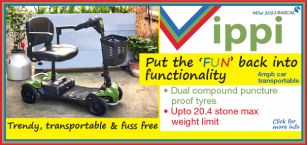 NEW Rascal Vippi - Launched at Naidex
Re-discover your power with this super scooter!
Trendy, transportable & fuss free, the Vippi is lightweight, versatile & compact. The 4mph transportable mobility scooter joins the Rascal Range ready for nippy adventures.
White stitching on the soft padded seat provides a premium finish complemented by a stylish black tiller with a choice of 3 fantastic pops of colour. Will you be tempted by Blue Moon, Green Lightning or Red Sky to help you get around comfortably?
Designed & engineered to make every day easy & spontaneous, whether you are off on an adventure or running an essential errand. It dismantles in a flash with an easy take-apart mechanism deconstructing into 5 parts for storage & transportation with the single heaviest part weighing only 15kgs.
Full product Specification available here
To meet with the evolving demands of the market, with the launch of the Vippi we have taken the decision to discontinue the Rascal Veo with immediate effect.