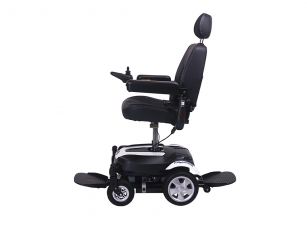 Rhythm SL Launch - A Symphony of movement
Life-changing style & harmony
The Rhythm Seat Lift (SL) Powerchair is a brand new Rascal Model to join the comprehensive range of independence enhancing mobility products ready for outdoor pursuits.
Uniquely positioned in the market the Rhythm SL is the choice for multi-function lifestyle needs. With its seat lift raising you up by 5" and rotating seat allowing dual-directional drive, the Rhythm SL gives complete flexibility.
Interchangeable depending on your needs combining TWO rare selling points, the dual-directional drive gives the option of Front-Wheel Drive for superb manoeuvrability indoors or easily rotate to Rear-Wheel Drive for extra traction outdoors. Plus, the column seat lift gives a floor to set height of 57 – 69.5 cm(min to max) for further independence and confidence.
Explore with grace as you navigate the Rhythm of life
Experience a refined drive with smooth acceleration and turning as the Rhythm SL moves in harmony with you. Well defined driving positions, a swing-away joystick and a fully adjustable seat and headrest combine for proven all-day comfort.
The Rhythm SL is the next generation version of the now discontinued Rascal P312 Turnabout SL, developing the existing great features of the model and enhancing them for the modern user, the Rhythm SL calls upon an established track record of success from its predecessor.
Visit the product page for full specifications including battery size and maximum carrying capacity.
May 2021