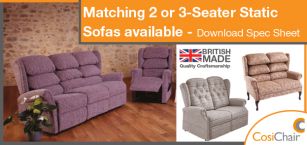 SoFa So Good
For many people, the thought of a Riser Recliner sticking out and drawing attention to their reduced mobility in their home can be an off-putting thought. Which is exactly why we offer a complete range of matching furniture to offer the option of an entire matching suite.
While a Riser Recliner offers support to move un-aided in and out of a chair to increase independence, a matching sofa offers another level of lifestyle support.
If you think a Matching Sofa or Static Chair could be a good fit for you or your loved ones home, then you can see all of the measurments with an array of images on the Digital Specification Sheet for our range of CosiChair Button, Lateral or Waterfall Back sofas.
Love the choices you have!