It is essential that you keep your batteries charged
Right now, we as a nation are spending considerably more time at home due to the advice and regulations set by the Government, in an attempt to tackle the Global Pandemic of Covid-19.
Those who can are working from home, staying home and having limited exposure to the outside world in a bid to collectively avoid unnecessary strain on the NHS and to attempt to avoid infection.
While right now you may not be able to use your Rascal Mobility Scooter or Powerchair to aid independence like you once did, you will again and so it is important to ensure when you come to rely on it as your outdoor mode of transport, that it is in full working order to ensure the maximum scooter or powerchair performance.
Regular usage and charging of the batteries increase the longevity of the battery lifespan (just like a car) and inactivity can actually half the expected lifespan of your scooter or powerchair battery! Continue to charge your Rascal Mobility Scooter or Powerchair batteries on a semi-regular basis so they don't drain during this period of inactivity.
Never let the charge fully drain or reach below 20%
Charge for upto 12 hours (this may vary, read the Owner Manual)
Must be charged once per month minimum, we recommend once a week if possible
The charger supplied with your mobility equipment should fully charge your batteries overnight. Overcharging is not a problem with today's smart chargers as they are voltage limited and shut off automatically. Always use the correct charger with the correct batteries.
Chronic undercharging is a common cause of sulfation and reduction in capacity, shorter run times and premature battery failure. Daily charging for the longest amount of consecutive hours possible is required. Minimum charge time of 8 hours is recommended to return 80% of the capacity of the battery. To return 100% of the battery's capacity, additional charge time may be required. To gain lost capacity due to chronic undercharging and to enhance battery life, it is recommended that upto a 12-hour charge be performed at least once each week if possible.
Electric Mobility highly recommend that you read and follow the instructions given in the Battery Charging Information section in the Product Owner Manual. The amount of time to fully charge the battery may range between 8 -16 hours depending on the type of scooter or powerchair.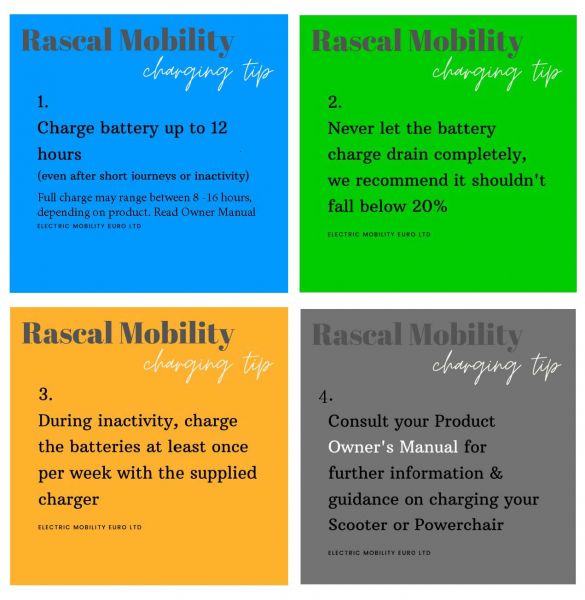 Download the BHTA Get Wise leaflet to maximise the performance from your battery.
http://bhta.com/wp-content/uploads/2018/04/GW-TGMFYB.pdf