Staying Covid-19 Secure 2020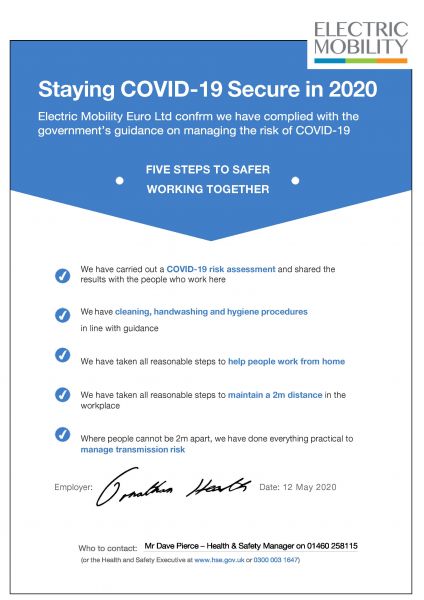 Following the Prime Minister setting out steps to beat the virus and restart the economy, so we can protect jobs, restore people's livelihoods and fund the country's vital public services.
The new 'COVID-19 secure' guidelines are available to UK employers to help them get their businesses back up and running and workplaces operating as safely as possible.
The COVID-19 pandemic has changed many aspects of the current workplace, and hygiene and cleanliness are key topics when creating post-coronavirus workplace plans.
We, as an employer must help prevent the spread of COVID-19 and protect the health and safety of our employees. We have taken practical steps to identify risks that Covid-19 creates & pragmatic measures to mitigate them.
Electric Mobility Euro Ltd confirm we have complied with the Government's guidance on managing the risk of Covid-19 by taking workplace preparedness steps to safer working together, operating within current Health & Safety, Employment & Equalities Legislation.