VE DAY 75 - Celebrate & Commemorate
Unfortunately, the Coronavirus emergency and consequent Government guidance has cancelled the majority of the VE Day 75 community celebrations due to take place on the bank holiday weekend of 8th – 10th May.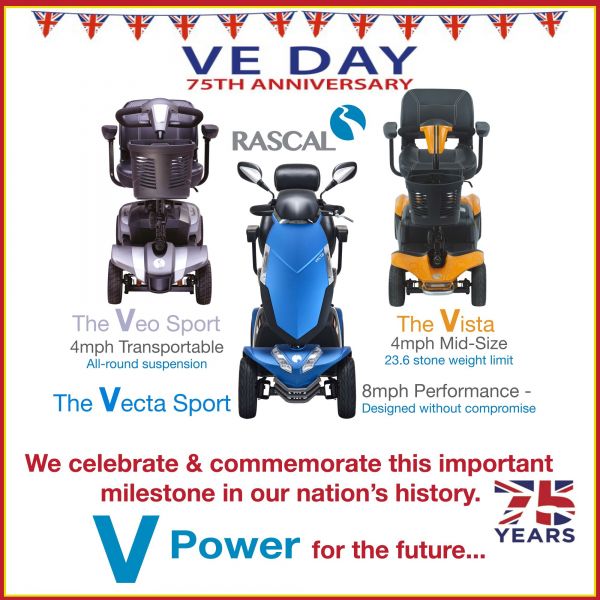 However, we must never forget the selflessness of all those who sacrificed so much to keep us free during WW II.
From the safety of many homes, celebrations and commemorations are going ahead.
So while the Pipers are playing Battle's O'er, and the recorded speech by Prime Minister Churchill is being broadcast by the BBC into our homes at 3pm on the 8th May, join us and the people of our great country and abroad to stand at 3pm within the safety of our living rooms, front or back gardens, outside front doors or balconies, and undertake the Nation's Toast to the Heroes of WW II, using the following words. "TO THOSE WHO GAVE SO MUCH, WE THANK YOU," using this unique opportunity to pay tribute to the many millions at home and abroad that gave so much to ensure we can all enjoy the freedom we share today.

The Royal British Legion is calling on people across the UK to join in a moment of reflection and Remembrance at 11am on Friday 8th May, the 75th Anniversary of VE Day, and pause for a Two Minute Silence. More details here - https://www.britishlegion.org.uk/get-involved/remembrance/remembrance-events/ve-day-75
You could take part in celebrations safely from home by joining your BBC Local Radio station initiative in making your own VE Day Great British Bunting. Download everything you need at bbc.co.uk/makeadifference
BLESMA is one of the many Military Charities with information on their website who are sharing stories of the Veterans they support. https://blesma.org/veday/
Together we can still remember, celebrate and honour.