Kevin Smith celebrates 20 years as the longest service employee!
For the first time in Electric Mobility's long history, an employee, Kevin Smith celebrated his 20 years of service working for the company. To mark the achievement, at the Head Office in Somerset, the Managing Director, Jonathan Hearth presented Kevin with the long-service award and 2 tickets to the British MotoGP in Silverstone to be held in August.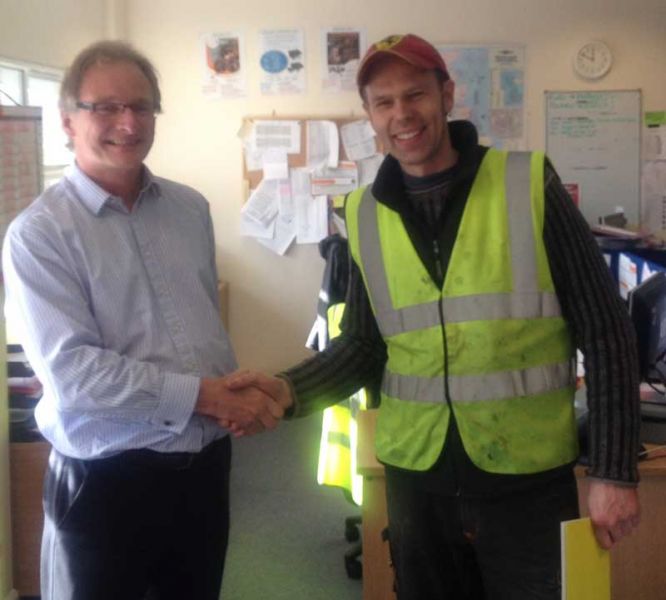 Jonathan (pictured left), said: "We're proud to honour Kev, an excellent member of our team who is so dedicated to his role and has been committed and hardworking for our company for so many years. It's employees like Kevin Smith that help us provide our excellent service."
Kevin, who owns 5 motorbikes has been a keen fan of MotoGP since he was 9 years old, and has raced Motocross since he was 10. He started working for Electric Mobility as a Warehouse Technician in February 1995 shortly after celebrating his 18th birthday. His first role involved building the gearboxes and assembling the mobility scooters from scratch on a production line.

About his first day, Kev recalls: "I think I was the youngest so I was very nervous and apprehensive but excited. It was a new chapter in my life and a chance to earn some money. Today, my job is very diverse and stimulating and keeps my mind ticking over all the time. I work with a great group of people in a small, friendly atmosphere and I enjoy resolving technical issues and daily challenges to ensure we give the customer what they want."
As the years have passed the mobility product range has grown dramatically. The building has had to relocate to larger premises and the staff size is the biggest it has ever been! Kev has trained all of the new employees that have worked in the warehouse and in his current role as Assistant Warehouse & Parts Manager he continues to be the fountain of all knowledge for advice and support, both to internal colleagues and customers with his experience of more than 5000 scooter parts and over 500 product lines.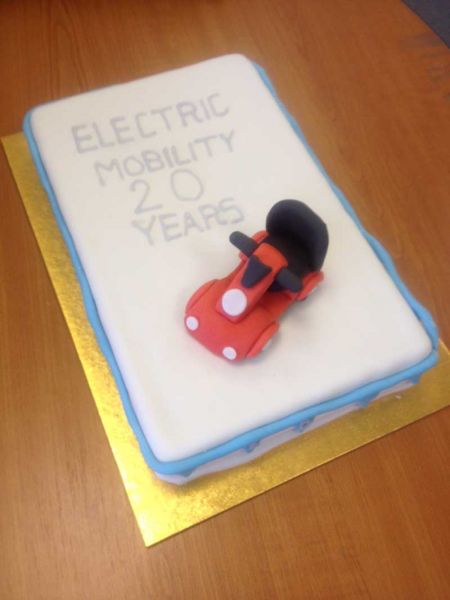 Dave Pierce the Warehouse Manager had a cake made for the occasion, iced and sporting a red mobility scooter, he adds, "This really is an achievement worth celebrating because his efforts have contributed significantly to the success of Electric Mobility.