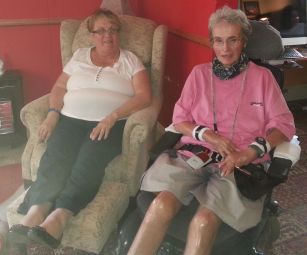 Winner of Cannington Cosi Chair
Severely disabled Mary Laver was diagnosed with rheumatoid arthritis 10 years ago. Even though Mary has this severe disability this does not stop her doing the things she wishes to achieve in life. She was a London Olympics 2012 volunteer and torchbearer, which was a very special experience and continues to have the determination to go on to the Glasgow Commonwealth games in July 2014.
Mary had entered the free prize draw on the Electric Mobility stand at Naidex, the Independent Living event held at the NEC. She was overjoyed to hear that she had won the Cannington Fireside Chair with matching footstool, exclaiming ''Oh my gosh where I am going to put it?'' Due to the extent of Mary's disability she has not been able to sit comfortably in a chair for over 25 years and has to rely solely upon her Rascal Rehab Alex Powerchair for independence both indoors and outdoors.
Mary is planning to share the Cannington Fireside chair and footstool with her carer Margaret Fenwick in Tyne and Wear, as she is very grateful to her for all the help and support over the years.
The chair was personally delivered by Anthony Thresher (Cosi Chair Product Manager) and Steve Trotter (Area Dealer Manager, North East) to Mary's house and the photograph shows Margaret (left) Mary (right) both very happy to be the joint lucky winners of the Cannington.
Mary continues 'My first impressions is it really suits the room and it will be nice to have somewhere for carers and visitors to sit when they come and visit. I am really pleased with the win, thank you for my Cosi Chair.'
Available in 3 sizes and a choice of fabrics, see further details on the website about the Cannington Fireside Chair, alternatively for more information on your nearest Cosi Chair Retailer please contact 0800 252 614 or email sales@electricmobility.co.uk