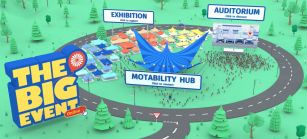 A successful virtual event with the Motability Scheme
In August 2021 Electric Mobility showcased popular products and attended the Motability Virtual Event in lieu of the usual One Big Day Events. The Motability Operations Scheme took things online for 2 days of industry speakers, product experts and information, all contained in one place.
From the comfort of someone home, Motability grant recipients could browse through a vast selection of Car Dealers, WAV & Adaptations Specialists and (most importantly?) Mobility Scooter & Powerchair Suppliers!
In addition to the packed schedule of webinars, people could browse at their leisure between Suppliers, the interactive Live Chat feature allowed people to ask further questions, book showroom appointments or even purchase a model. We were delighted to be supported by a regional range of our Authorised Retailers who provided an extra level of expertise to those looking for more information.
Thank you to Motability Operations for inviting us to contribute to this online event, we look forward to being able to return to physical events in the future for that all important face-to-face interaction.

The platform is accessible on demand until 30 September 2021 here.
August 2021