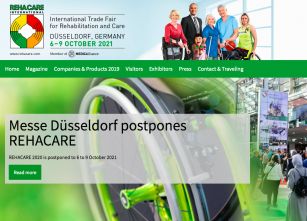 International Exhibition Rehacare Postponed
Rehacare has officially announced its postponement. The event, Europes largest trade event for the mobility, assistive tech and rehabilitation sector, was due to go ahead in September 2020, however the decision has been taken to postpone untill October 2021.
The organisers said of the decision,
"We are constantly adapting our pre-existing high-level safety and hygiene standards for the Düsseldorf trade fair centre to the current findings. At the same time, however, we are evaluating the situation for each of our individual trade fairs individually," explained Werner Dornscheidt, President and CEO of Messe Düsseldorf GmbH.
"Despite the regional government of North Rhine-Westphalia's announcement that they would strive to enable the reopening of trade fairs and conferences by 31 May 2020, we have decided to postpone REHACARE until 2021 due to its specific participant demographic."
Electric Mobility visits the exhibition annually as a great opportunity to have beneficial business meetings with our network of International distributors and clients. We look forward to welcoming guests in October 2021 when it is safer to do so instead.
More information can be found from the event organiser's website - https://www.rehacare.com/
1 June 2020