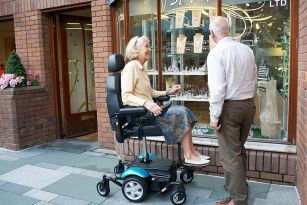 P327 Mini Seat Lift Video
The P327 Mini Seat Lift is an ideal all round powerchair for petite users. It is a medium duty 4mph mid-wheel drive powerchair perfect for indoor/outdoor use with outstanding manoeuvrability. This model includes a comfortable Captain's seat with a maximum floor to seat height of 75 cm when fully elevated so users can engage in eye level conversations.

The P327 Mini Seat Lift features a maximum turnaround width of just 1.19m making it suitable for individuals who need to easily navigate inside and outside the home. It also benefits from a 22 mile range, this durable powerchair is designed for use all day without needing to charge. It features a 7.5 inch column Seat Lift to reach new heights.
The P327 Mini Seat Lift videos effectively demonstrate many of the key benefits of this model. Electric Mobility has utilised this Digital Marketing tool to its full advantage across social media, website and online advertising.
The P327 Mini Seat Lift is available through our Network of Authorised Dealers.