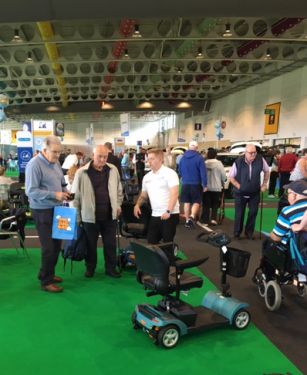 A Fantastic Motability Event in Harrogate
The green carpet was rolled out once again for Electric Mobility as we joined Millercare Mobility Specialists in Harrogate for the latest Motability One Big Day Event.
Bringing in a large crowd the event was as popular as ever servicing the Yorkshire area offering customers a chance to see the Ultralite 480 transportable scooter, Rascal Rio Powerchair and Vecta Sport 8mph performance scooter live in person.
Product demonstrations, test drives and chatting to visitors kept our team busy with Electric Mobility's Area Dealer Manager David Barnes on hand throughout the day to support Millercare's Sales Team.
The positive atmosphere of the day was enjoyed by all as the event organisers ensured children were well looked after with a play area, bouncy castle and face paint, as well as making the event accessible for all with ample parking, quiet rooms and soundproof earphones available.
Having a positive shopping environment assisted visitors with their education trip to see Mobility Scooters, Powerchairs and adaptable cars all in a location which suited them.
That's 3 down and 2 to go –see you in Peterborough or Edinburgh!