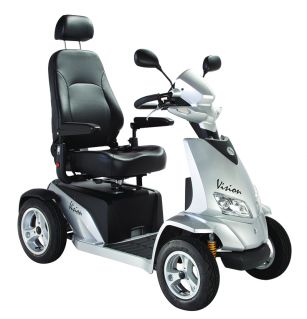 A reminder about mobility scooter insurance
Details on non-compulsory mobility scooter insurance, where your model is allowed and why it was, again, decided that it should not be a necessity to enforce insurance.

Recently, the European Parliament passed proposed changes concerning which vehicles require compulsory vehicle insurance, however, excluded vehicles including mobility scooters due to concerns of discouraging innovation.

Whilst the UK government recommends users to take out insurance, currently, mobility scooter insurance is not compulsory for either class 2 or class 3 scooters, despite a legal requirement for users to register class 3 mobility scooters with the DVLA for road use.

For class 3 mobility scooter users wishing to exceed more than 4mph, the scooter must be used on the road and are prohibited from travelling faster than 8mph, as well as requiring front and rear lights and reflectors, an efficient braking system, direction indicators able to operate as a hazard warning signal, an audible horn, and a rear-view mirror.

Additionally, mobility scooter users are permitted to travel on dual carriageways, with users being required to use an amber flashing light for visibility.

The justification behind the decision to exclude mobility scooters was that compulsory insurance would "discourage innovation," as well as citing the lack of damage caused following a mobility scooter accident in comparison to that of larger vehicles, such as cars.

The decision to omit mobility scooters from requiring compulsory insurance may prove controversial as mobility scooter accidents continue to make headlines, with various calls from inside and outside the industry for action to be taken to curb the rising number of incidents involving the devices.
Details originally found on THIIS