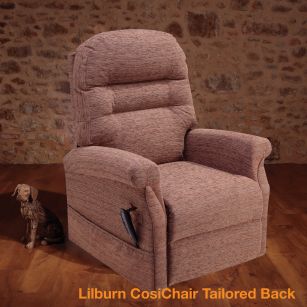 CosiChair Heat & Massage options
Help combat stiff joints and poor blood circulation with the sophisticated system, upgrade your CosiChair Riser Recliner with Heat & Massage today.
A Riser Recliner is already a great option for those struggling with the motion of sitting and standing and looking for increased comfort. For those in need of even more support looking to reduce pain and increase independence, Cosi Chair offers this great feature.
Designed to relieve stiff, tired or strained muscles you can choose the level of intensity, speed and pulsating to suit your needs with the easy to use handset.
Personalise your Cosi Chair Riser Recliner by including Heat & Massage options with our Made to order service – there's no need to sacrifice style with the Heat & Massage available on any of the Cosi Chair Riser Recliners.
Combining the Heat & Massage options with our high-quality Cosi Chairs works to combat stiff joints and increase poor circulation, and can be especially helpful during cold weather. Working with our long established manufacturer and supplier of various revolutionary heat and massage systems, they set the benchmark for comfort, quality and reliability.
Experience the relaxing massage system featuring:
• Massage settings covering three different zones: shoulders, lumbar and seat
• Three massage motors provide relief to stiff, tired and strained muscles
• 15 and 30 minute massage timers
• Activate any or all of the three massage zones while in Wave or Pulse massage settings
• Independent adjustable massage intensity and speed settings
Relax with soothing low and high penetrating heat
• Independent 30 minute heat timer
• Soothe back muscles with our warming heat system
• Low and high heat settings
Add extra comfort to your CosiChair today with superior seating comfort, visit a local Authorised Retailer.
Additional cost for Heat & Massage options – contact your local Authorised Retailer to discuss prices.
The Heat and Massage option is not a medical device.