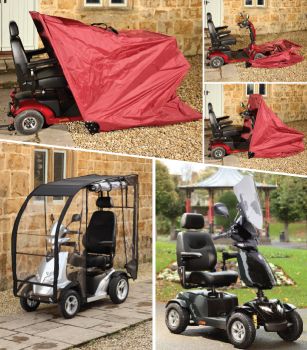 Winter Weather accessories
Whether you're considering purchasing a Mobility Scooter complete with the full range of accessories or upgrading your current scooter to add more protection, the Rascal Range of accessories are built to perfectly complement your mobility scooter.
It's important to protect your mobility scooter wherever you can, especially in colder, wetter weather.
Rain Canopy offers the highest level of protection for you and your scooter in wet conditions. Available on a range of 6 and 8 mph scooters each is bespoke to our Rascal Range.
Over Night Garage Cover protects from cold conditions, often mobility scooters are stored in garages where moisture can cause rust so ensuring it is covered each night or through 'out of use' periods is essential.
Windshield. Class 3 scooters can build up some speed and it can make for a breezy ride, protect your hands and face without compromising visibility with a windshield suitable on most 6 or 8 mph scooters.
Tiller weather cover. Keep the dash panel free from excessive moisture during rainy periods with this water-resistant option, the transparent cover allows for you to see all of the controls and use them with ease.
Discover more accessories in your local Authorised Retail showroom.