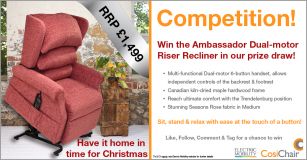 A Free Riser Recliner and Free delivery in time for Christmas is up for grabs
Nominate a loved one for a chance to win a Riser Recliner for them in Electric Mobility's social media giveaway competition.
Electric Mobility has launched a social media prize draw to give Facebook and Twitter followers a chance to win one Ambassador Dual-motor Riser Recliner chair worth £1,499.

A member of the general public will benefit from receiving a free Ambassador in Seasons Rose size Medium for themselves or their nominee as well as free delivery in time for Christmas!

Running on the @ElectricMobilityEuro Facebook and @EMobilityEuro Twitter accounts, followers have the opportunity to nominate someone who they believe would benefit from the independent living aid. Followers can nominate a family member, friend, someone they care for or even themselves.

How to enter on Facebook:
Like our Facebook Page @ElectricMobilityEuro
Like the original competition post
Comment your nomination of who deserves to win and why
Tag a friend for a bonus entry
How to enter on Twitter:
Follow Twitter Account @EMobilityEuro
Favourite our original competition Tweet
Reply to the original post with your nomination of who deserves to win and why
Elaine Leighton, Marketing & Communications Manager said,

"We are looking forward to giving our followers a chance to celebrate someone who deserves a Riser Recliner and we want to ensure the prize goes to someone in need, someone who's life would be improved by the Ambassador.
"A Riser Recliner has the power to change someone's life and make everyday living easier & more comfortable, we are excited about the thought of giving the Ambassador to one of our followers."
Read more information about the Ambassador here, including measurements of the Medium Riser Recliner which are as follows,
Seat height - 50.8cm / 20''
Seat width - 53.3cm / 21''
Seat depth - 50.8cm / 20''
Arm height - 16.5cm / 6½''
Back height - 68.6cm / 27''
Overall width - 81.9cm / 32¼''
Overall height - 114.3cm / 45''
Weight limit - 26.8 stone / 170kgs

Head over to our social accounts to enter before the 7 December 2018 when the competition closes. The Winner will be announced on Tuesday 11 December 2018 on our Facebook & Twitter accounts.