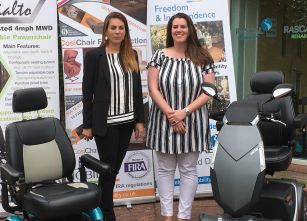 Rehacare 2018 – an effective and encouraging visit for the Team!
Electric Mobility had the pleasure of meeting with key suppliers and International Distributors from across the globe during one of the world's leading trade fairs within the Mobility Industry, Reha Care in Düsseldorf 2018.
The International Sales Team welcomed our Global customers in the Tulip Hotel, where they had the opportunity to discuss the latest export news and product updates. This event was also a great occasion to meet prospective clients and discuss new business opportunities as Electric Mobility is rapidly expanding internationally.
The International Team and various other members of staff exclusively launched new products which are yet to hit the market from Electric Mobility and benefitted from hearing initial product feedback.
We would like to thank each and every Client who made the effort to come and see us during Rehacare 2018. We look forward to developing business relationships with all of the new, exciting connections we made, as we continue to grow our international presence.
For International enquiries please contact the International Sales Team on internationalsales@electricmobility.co.uk