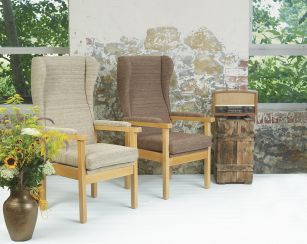 A Fireside Chair - perfect for you & your customer...
In an industry where impressive mechanical actions are exciting and life changing, to some they can be overwhelming! Jargon such as Tilt-In-Space, Variable Angle Lift and Dual-motor can lead to confusion, especially for our older audience who may not know just what product they need.
Offering a variety of models in store can allow Retailers to cater to a wider range of audiences. Stocking a range of Fireside chairs in addition to Riser Recliners may open showrooms up to more potential customers.
Why purchase a Fireside chair, what are the benefits?
Fireside chairs make the perfect option for those with regular visits from Family members or carers, a lower priced chair in the same fabric range can complement a person's Riser Recliner and offer a suitable seating option for visitors who may not need mechanical aid.
Similarly, customers who use a powerchair can offer seating options for their guests which takes up little room!
A Fireside chair can pull a room together and complete the suite! With matching Static chairs, Sofas and Footstools available users can create an entire suite so that nothing looks out of place. Customers may wish to make the most of our Made to order service and purchase a Fireside chair to match their existing furniture or upgrade all at once in their favourite new fabric
Pairing a Fireside chair with its matching Footstool allows customers to achieve a slightly lower elevated leg position compared to a Riser Recliner, discussing your customers' needs will outline which is the best choice for maximum comfort
For many, the sturdiness of a Fireside chair with its sleek wooden frame is an appealing benefit, the exposed wooden handgrips on the Avon, Breydon, Orwell & Rivington allow for extra security when rising from a Fireside chair and the high backs keep customers safe in an upright position
Mary, a Cosi Chair customer form Tyne & Wear says of her Cannington.
"My first impressions is it really suits the room and it will be nice to have somewhere for carers and visitors to sit when they come and visit. I am really pleased with the Cannington, thank you for my Cosi Chair."
Consider a Fireside chair and offer variety to everyone who comes to your showroom! Call Customer Service on 0800 252614