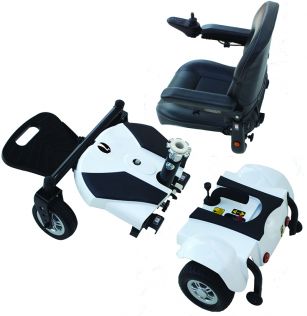 Improve Mobility & Freedom with the Rascal Rio
The Rascal Rio is the latest product to join the popular Rascal Range of scooters & powerchairs. The 4mph compact powerchair easily dismantles into three parts making it the perfect transportable choice. Whether it's to fit in a car boot to take on long journeys or for convenient storage, the benefits of this compact powerchair are clear to see.
The Rascal Rio replaces the P321 compact powerchair and boasts an array of improvements
• Upgraded seat with longer backrest to provide higher levels of comfort
• Raised maximum seat height by an additional 2 inches
• New PG nVR2 Controller
• Fresh & clean aesthetics in bright white colour
These new & improved benefits support the existing, standard features which make this powerchair ideal for those who do not wish to compromise.

• Padded seat with folded back, adjustable arm height, angle & width
• Convenient joystick charging point
• Range of up to 8 miles
• Maximum carrying capacity of up to 18 stone

Jonathan Hearth, Managing Director of Electric Mobility believes the Rio is the perfect powerchair for the current market,
"Customers want to feel comfortable and confident while using their powerchair, combining lightweight, dismantlable components with the Rio's sturdy base offers them great peace of mind. Mounted on the modern & clean white base, the Rio is a timeless powerchair ideal for convenient storage & life on the move."
If you are interested in becoming an Electric Mobility Dealer, or wish to place an order for the Rascal Rio powerchair for your showroom, contact the Customer Service Team on 0800 252 614 or email sales@electricmobility.co.uk today!