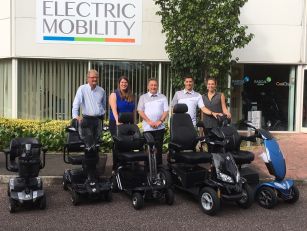 New International Partnership for Electric Mobility
Electric Mobility partners with Marconnet Technologies to promote the Vecta Sport performance mobility scooter to the International French market. Marconnet Technologies is a distributor for the whole of France for high-end mobility aids and will be distributing the Vecta Sport on behalf of Electric Mobility exclusively for the French territory.
Marconnet Technologies attended Electric Mobility for a training session with the support of our in-house French speaker Adriana, International Sales coordinator and the Technical team who together equipped them with the essential information to promote, sell & service the Vecta Sport performance scooter.
Aina Brunet, International Sales Manager at Electric Mobility said,
"Electric Mobility has been present in the French market for some years and Marconnet is the partner we need to take the Vecta Sport sales further. With their network of Dealers and great after sales service, we are very excited about this new joint venture".
Pictured above, Jonathan Hearth, Adriana Fort, Roger Marconnet, Benjamin Marconnet and Aina Brunet.