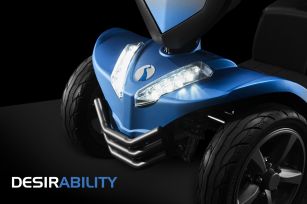 Electric Mobility launches professional promotional video to advertise the Vecta Sport as part of new marketing campaign
Launched at Trade Days in October 2017, Electric Mobility's newest mobility scooter has remained a talking point because of its unique features and effective marketing strategy. The promotional video is a superb demonstration of what the Vecta Sport can do for Dealers and customers alike who have not yet seen the Vecta Sport for themselves.
The video clearly and effectively demonstrates the ease & usability of the Vecta Sport, and how customers are able to enjoy all aspects of everyday life with the support of the 8mph performance scooter and its revolutionary features including RunOn run flat pneumatic tyres, MaxGrip limited slip differential gearbox, and waterproof USB port.
The video highlights customers socialising with friends, enjoying a hobby and swiftly manoeuvring around the town & countryside, all of which cannot always be done without the support of a mobility scooter.
Less able-bodied people are often restricted in what they can or can't do but the Vecta Sport promotional video emphasises the possibilities of what they can do and how they can lead enriching lives, every day.
Elaine Leighton, Marketing & Communications Manager worked with a local, South West design agency to create the impactful video;
"A common misconception with our consumer audience is that mobility scooters are exclusively for the older generation - it's a real barrier within the industry. Some younger people's lifestyles suffer as a result if they are unwilling to consider a mobility scooter as an everyday living aid option.
"Our consumer-focused video emphasises that a modern, compact and attractive mobility scooter such as the Vecta Sport can seamlessly become a part of someone's life and change it for the better.
"We have brochures, professional photography, POS & marketing support for the Vecta Sport which has been highly visible throughout our Dealer's showrooms, but the video reinforces the overall Vecta Sport performance. What customers really need to see is the manoeuvrability and capability on all terrains."
Electric Mobility are proud to produce high-quality marketing campaigns to generate consumer sales leads for their Approved Dealers and the video formulates just one area of the marketing support offered to its Authorised Network of Dealers across the UK.
If you are interested in becoming an Electric Mobility Dealer, or wish to place an order for the Vecta Sport, contact the Customer Service Team on 01460 258120 or email sales@electricmobility.co.uk today!