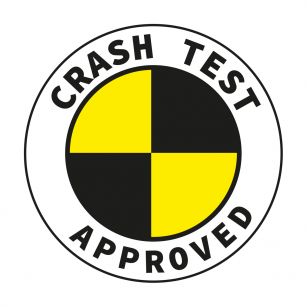 Crash Test Approval - What does it mean?
Looking out for this logo when choosing a Wheelchair can help you identify if the product has been tested and passed a series of crash tests. By the Global ISO 7176-19 standards putting wheelchairs through testing to ensure, when in a forward facing vehicle and secured down with crash test approved restraints, 90% of the wheelchair will stay put.
Not all wheelchairs have been tested within these regulations therefore the approval is essential in identifying which wheelchairs are going to withstand impact when traveling.
Wheelchair users are gaining ever more independence, travelling using services such as busses and taxi's is growing & the implementation of fines of up to £1,000 for refusing to pick up a wheelchair user means travelling with your chair has less challenges than before.
With this increased use of wheelchairs within other vehicles, users need to know they are traveling as safely as possible, and this is where the crash test approval products come in.
Our Rascal Rialto has been Crash Test Approved in accordance with the ISO 7176-19 when secured down with Koller™ Restraint System
Discover even more great things about the Rascal Rehab Rialto here.
For additional information about crash test approval, click here.