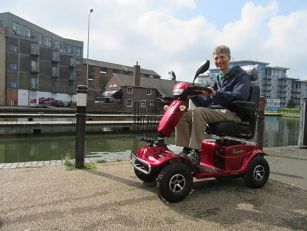 Independent Pioneer Scooter Review
The Motability Scheme has launched a new series of reviews from independent reviewer & Journalist, Ian Cook. His first review focuses on large Class 3 mobility scooters available on the Motability Scheme and features Electric Mobility's 8mph Performance Scooter, the Pioneer. This class of scooters is permitted to travel on the road when taxed, which can be arranged by the Motability scheme.
So what did Mr Cook think?
"This fully road legal 8 mph mobility scooter gives you reliability and performance. It is able to carry up to 25 stone in weight and I could really feel its solid construction while riding it over uneven ground.
The Pioneer comes with a full lighting kit, 12" robust wheels, and front and rear coil-spring suspension. It also has an adjustable, luxurious sliding swivel seat with a headrest and padded arms. I found the large square basket particularly useful for storage.
The scooter also features a moveable delta-bar tiller and it will carry you up to an incredible 35 miles before needing to re-charge the batteries. With its suspension and a 35-mile range, the powerful motor makes it an ideal mobility scooter for more challenging environments.
With 12″/ 30 cm wheels front and rear, the Electric Mobility Pioneer electric scooter is sure to give you a comfortable ride, whatever the terrain—I think this was its most impressive feature."
Read the full article here.
Discover more about the Pioneer.