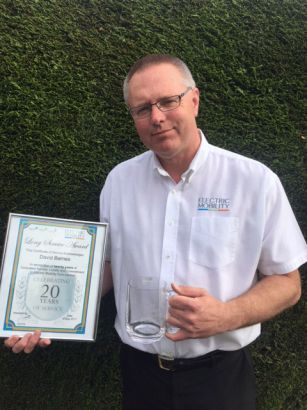 David awarded for two decades of loyal service
Employees with commitment, dedication & innovation are central to any successful business and a member of our team ticks all of those boxes.
David Barnes, Area Dealer Manager for the North West & Scotland is the face of Electric Mobility & he has being recognised for his loyalty & congratulated on reaching an impressive milestone of 20 years' service in the Sales team having faithfully served the company and its customers.
David, the Area Dealer Manager for the North West & Scotland, has reached the impressive milestone of 20 years' service in Electric Mobility's sales team.
Jonathan Heath, Managing Director of Electric Mobility, presented David with the Long Service Award and an engraved crystal glass tankard in recognition of his loyalty at a recent sales meeting.
Jonathan said: "We are celebrating an outstanding role model who has a wealth of knowledge and understanding about the industry which really is invaluable to us. He contributes an enormous amount of time & effort to ensure our dealers receive first-class service & sales support at all times across every aspect of the Rascal and Cosi Chair relationship".
David, a keen football supporter, commented: "There's been a lot of change over the 20 years; when I started in the late nineties, even my own beloved Nottingham Forest were in the Premier League!"
Despite his team having left the Premier League since that time, David has remained a loyal member of the Electric Mobility team.
He continued: "It is a true privilege to represent a team of people who are ethical, caring and dedicated to their work. I enjoy the role, feel a great sense of achievement and I have some excellent dealers to work with in my region. 'Thank you' to everyone who has ordered from me during the last 1040 weeks."
Electric Mobility is proud of the strong reputation David has built regionally with Dealers in the North West & Scotland, with a number of major contract wins being delivered through Dealer partnerships and a general growth in the company's business, and we look forward to his continued success over the next twenty years.