Flash's 'PEDAL POWER' Victory!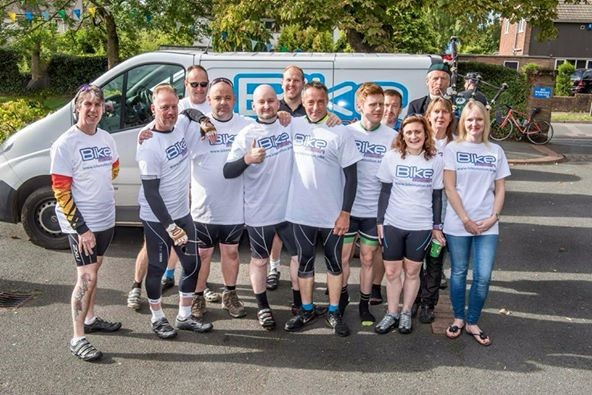 Flash Harris is one of our long-standing warehouse technicians and has been working for Electric Mobility for 13 years. Working alongside Dan and Steve, the team of 3 inspect and repair the full range of Riser Recliners and furniture within the Cosi Chair range; liaising with Dealers to provide product maintenance and resolve issues.

On Saturday 5 September Flash joined "Eddie's Bike Challenge", a group of 9 cyclists riding from Exeter to Cambridge in aid of Mardon Neuro-Rehabilitation Centre and ACT Addenbrooke's Charitable Trust.

3 years ago Eddie Cattanach was saved by Ramex Kirollos a surgeon at ACT after suffering a brain aneurysm. After weeks of recovery from surgery, Eddie was transferred to Mardon in Exeter, a purpose built centre providing a range services for individuals with Neurological conditions, where he spent 2 years regaining the use of his Right hand side and under-going speech therapy.

'Team Eddie' as they have become known, successfully completed the 252 mile event in 5 days averaging 55 miles a day. Flash raised £1000 with the help of his family, friends and co-workers, which Electric Mobility matched to give him the staggering grand total of £2000.