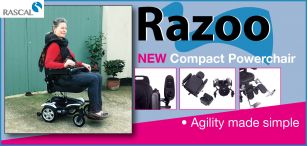 The Rascal Razoo - Agility made simple
NEW POWERCHAIR – Discover the Rascal Razoo

The Razoo is a 3.8mph Compact Rear-wheel drive Powerchair with a range of up to 6.8 miles, maximum carrying capacity of up to 21 stone and a narrow width of just 22.9".
Not only is it one of the most petite powerchairs to join the market, it also dismantles into 3 pieces for transportation and storage. With an attractive turning circle of just 97cm the Razoo is both manoeuvrable and agile.
The Razoo is an everyday companion to assist with and enhance your independence, this delicate yet durable model has a minimalist design at its core making it not only functional, but stylish too.
Main Features:
Overall length - 89.6cm / 35.3''
Overall width - 58.2cm / 22.9''
Maximum carrying capacity - 136kgs / 21 stone
Maximum speed - 6km/h / 3.8mph
Range - up to 11km / 6.8 miles
More product information available here.
The Razoo is the next generation version of the now discontinued P320 Compact, The Razoo calls upon an established track record of success from its predecessor enhanced to feature a more comfortable seat with stylish white stitching.
May 2021