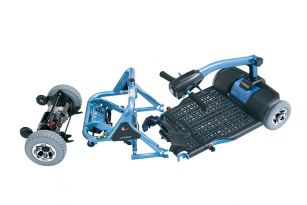 The Liteway Range: What's the difference
Its often small features which differentiate scooters which are similar in the market – when faced with two similar scooters, how can you decide which one is for you?
Transportable scooters are hugely popular as they can be transported in the boot of a car and users can enjoy a day out further away from home. Many models are similar so differentiating to find the right one for you can seem a tall order.
The Liteway Balance Plus and Liteway 4 Plus on paper appear to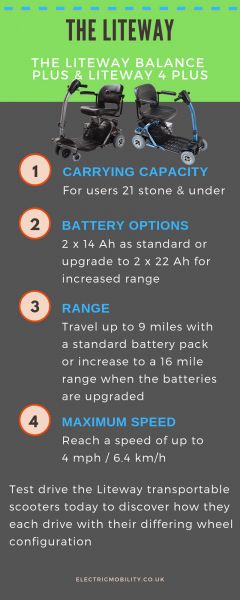 be equal with them benefiting from identical features for the most part as they both tick the boxes of a Class 2 Mobility Scooter.
Highlighting the differences
The Liteway Balance Plus has a smaller turning circle of 1.4m / 4'5" compared to the Liteway 4 Plus which has a turnaround width of 2.13m / 7' so if you anticipate coming across tight spaces the former is the best option.
The Liteway Balance Plus boasts larger legroom whereas the Liteway 4 Plus has a longer overall length of 108cm (compared with 107cm).
The Liteway 4 Plus dismantles into 4 pieces (Same as the Liteway Balance Plus) but the heaviest separate component is heavier at 14.9kgs compared to the heaviest single component of the Liteway Balance Plus which weighs in at 12.8kgs - something to bear in mind.
The final decision
We recommend taking apart and putting back together the scooter yourself in store, can you confidently lift all the parts yourself or is it a struggle?
It's all about the drive, with these similar scooters only test driving can tell you which is right for you, the feel of the drive around corners, up hills and the comfort as you are in control are all more important than the spec of the scooter!
The Liteway 8 completes the range as our Class 3 Liteway Mobility Scooter, discover more here.