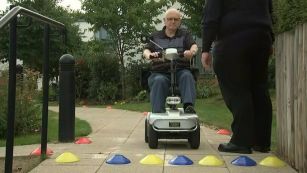 ITV News highlights changes needed within the mobility industry following fatalities
Mobility scooter safety has hit the headlines once again with a push to encourage mobility scooter training following recent fatalities involving mobility scooters.

In case you missed ITV's news feature on the subject, which aired on Friday 14 September 2018. ITV spoke to mobility scooter users and their family members who were overwhelmingly in favour of training for mobility scooter users in order to avoid fatalities.

Stories from the recent news package included a driver being hit by a car on a busy road to a woman being knocked down in the street by a mobility scooter. The conclusions from this are that many of these accidents could be avoided with better training implemented by national regulations. A current lack of legislation means anyone above the age of 14 can dive a mobility scooter, without any training. This can put the driver, cyclists, car owners and pedestrians at risk.

The Government however, has no current plans to review the policies in place and the responsibility falls on Retailers, many of the Retailers within the Electric Mobility Authorised Network arrange proficiency training courses & mobility scooter safety awareness days locally for consumers to attend. Our Retailers recognise the importance of offering training to support consumers of all abilities with their first or upgraded purchase of a mobility scooter or powerchair.