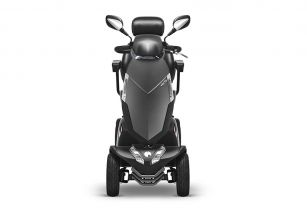 The Revolutionary Vecta Sport - All you need to know
A new launch that really grabbed attendees' attention at this year's Trade Days was the Vecta Sport from Electric Mobility. Managing Director Jonathan Hearth and Technical Director Richard Rudd explain why the scooter was garnering so much interest.

Taking place over the 8th and 9th of October at the NEC, Trade Days saw manufacturers and dealers from across the country coming together to find out about the latest and greatest products.

Throughout the show, Electric Mobility's stand continued to see a buzz of activity as retailers came to find out more about the Vecta Sport, a stylish new scoter with a number of unique features.

Jonathan explained what made the new scooter so special: "Firstly, it is super compact. It is 52 inches overall length and very narrow, making it agile and not requiring too much storage space. Despite its compact size, the scooter features a powerful, 600W 3rd generation motor; around 25% more powerful than the typical motors used on scooters of this size.

"That's driving through a limited slip-differential transmission for the first time on a mobility scooter – apart from our Liteway 8. We brought this transmission in a year ago and ran it on one model and now we are starting to progressively introduce it to all of our new road scooters."

This innovative 'Max Grip' transmission, featuring a limited slip differential gearbox, is the key to providing benefits to end-users, according to the company.

"It provides more range and importantly, stops people being stuck in more challenging, situations such as wet inclines or slippery surfaces" said Jonathan. "Rather than a scenario where one wheel loses grip and all power transmits to that wheel, our limited slip-differential transmission transmits power to the wheel that has the best grip, so a user can drive through the difficult patch with relative ease. This transmission enhances safety, reliability and performance. What's not to like?"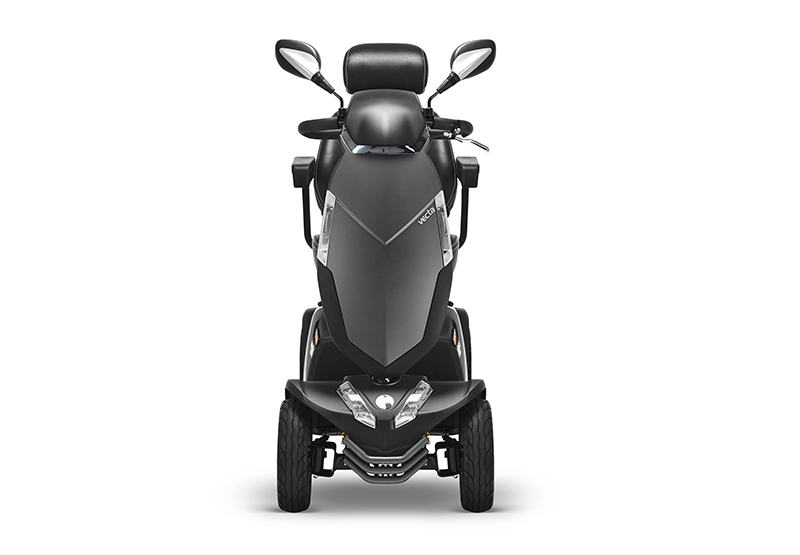 Keen to utilise advanced engineering from other industries, the Vecta Sport's gearbox is built by the same people that build gearboxes for electric car juggernaut, Tesla.

"It is a great application of technology in our industry. We have a new, more powerful, more efficient motor driving a more efficient transmission and then when power hits the road through the tyres, we have got – again for the first-time on a mobility scooter – a low-profile, tubeless tyre."

These 'RunOn', run-flat tyres allow a user to continue riding the scooter for at least a full charge in the event of a puncture, allowing a user to return the scooter home without having to call out for assistance.

The new tyres are also set to benefit dealers and their service times, as Jonathan clarified: "Because the tyres are tubeless, if a user gets a puncture, a dealer can fix that puncture in five-minutes with a special plug-kit that we have introduced, without having to take the wheel off the scooter.

"Our aim was to ensure that all of the features introduced are innovations not seen in the industry before but also were included to give a direct customer benefit, rather than innovating for the sake of innovating."
So far, the Vecta Sport has seen considerable interest from dealers, with the company first unveiling the scooter at Rehacare in Dusseldorf, days before the UK launch at Trade Days.

"We showed it to dealers in Germany and every single one of them said, 'When can we have one?' Jonathan said.
"When the show [Trade Days] first opened, within 40 minutes, some of the bigger retailers immediately asked for units to be sent to them. It is on Motability from day-one of launch and Motability really like all the customer-benefits."

With Electric Mobility's stand opposite the THIIS stand, the demand from dealers did not seem to abate, with visitors continuing to take the Vecta for a spin and running it up a ramp with rollers on to test the new transmission.

"The Vecta has been in development for about three-years, from concept to launch, with two-years of heavy engineering and development," said Jonathan. "The amazing thing is Richard, who headed up the development, hasn't gone grey!"

Richard divulged about the development of the Vecta Sport: "It was very intensive. We've really tried to go above and beyond to make it the ideal choice for customers. It is not a cheap machine and it isn't dramatically expensive; I would say it is a good all-rounder which oozes style and innovation.

"We have worked hard on it and fortunately, the technology and the design have come together to result in something that works really well. Quite often, you find something that looks great but doesn't perform too well, and vice-versa. We think the Vecta ticks all the boxes."

As well as the number of industry-first innovations featured, the Vecta Sport also includes a waterproof-USB to charge devices such as phones and sat-navs, all-round adjustable suspension to accommodate all sizes and a simple easy to read and operate dash, rather than a digital dash.

Jonathan explained why the company opted to move away from a digital dash: "We have found dealers have problems with the accuracy of digital speed readouts on scooters, leading to customer complaints. We also know digital dashes can be very difficult for many users to see in bright sunlight and the dash can be subject to water ingress, so we opted for a simple, reliable dash with waterproof switches, which both customers and dealers like." "We wanted to raise our game and I think we did," finished Richard.

The Vecta Sport is available for dealers to purchase now.