Transportable scooters

VelumiLi
VelumiLi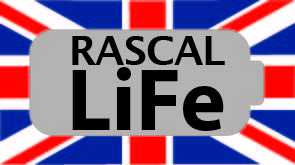 Featuring the Rascal LiFe Battery with LiFetime Guarantee

With the VelumiLi, every detail makes a statement...Our lightest Rascal ever at just 28.8kg* & has the British Made Lithium Ferro-Phosphate Battery Pack for peace of mind.
Lightweight, transportable scooter with Lithium Ferro-Phosphate Battery, this small but mighty 4mph is great value for money. Brimming with features & choice of 5 vibrant colours, the slimline, aluminium, high quality frame is just 18.6 inches wide, yet the sturdy frame & transaxle contribute to the extra travelling stability for everyday adventures.
8 " Dual compound tyres provide a smooth ride which is both comfortable & spacious with two easy access charging point options on the tiller or the battery box which is removable for indoor charging for added convenience.
The front section weights just 10.2kg with the T Bar tiller locking feature for easy transportation & durable metal seat post for added strength, the compact scooter offers an exceptional 1150mm turning radius & manoeuvrability.
With a range of upto 13 miles, ideal for both indoor & outdoor use, an LED front light & side reflective strip which increases safety of being seen, plus the good size front basket which is quick to attach on & off, perfect for bitesize shopping trips.
Not all Lithium Batteries are the same!! You can buy the VelumiLi with confidence because it has State-Of-The-Art high quality Battery Packs using Lithium Ferro-Phosphate (LiFePO4) cells & is the safest, greenest with a design life of over 1500 cycles providing an increased overall efficiency, sustainability & performance. Plus LiFetime Battery Guarantee.
See the Battery Graph shown in the images for more details or download the pdf at bottom of page
Airline Compliant 12.4Ah Battery
• Type Class - B / 2
• Overall length - 106cm / 41.7''
• Overall width - 47cm / 18.6''
• Maximum carrying capacity / 115kgs / 18 stone
• Maximum speed - 6.4km/h / 4mph
• Maximum kerb height - 5cm / 2''
• Range - up to 21km / 13 miles
• Mass weight of heaviest part - 10.2kg / 22.5 Ibs (Front Section)
• Colour - Blue Moon / Green Lightning / Orange Sunset / Pink Thunder / Yellow Star
(*weight without the Battery Case fitted)
Enquire about this product
What our customers say...
Throughout the 10 years Electric Mobility have been supplying us, your company has been a shining example of service and efficiency. Your products have always been excellent and often innovative, your riser recliner chairs are usually with me next day if ordered by 2pm. The Customer Service staff, Pippa, Shona, Claire and Hayley in Marketing are always very pleasant, helpful and knowledgeable. JT and the team in Techinical are really hands on and always quick to offer advice. Thank you.

-Mr Newbery, Mobility Dealer Northants

BLESMA participate each year in the National Remembrance Parade on Whitehall as the Nation remembers all those that made the ultimate sacrifice in the service of their Country. Severely injured Service and ex-Service men and women form the BLESMA Contingent to pay their respects and the response from the crowds that line the route of the Parade increases in volume as we pass. None of this would be possible without the wonderful assistance afforded by Electric Mobility as they provide their excellent scooters completely free of charge for the event. Thank you Electric Mobility on behalf of all our Members.

-British Limbless Ex-Service Men's Association