Rascal Rehab
Optimus 2 RS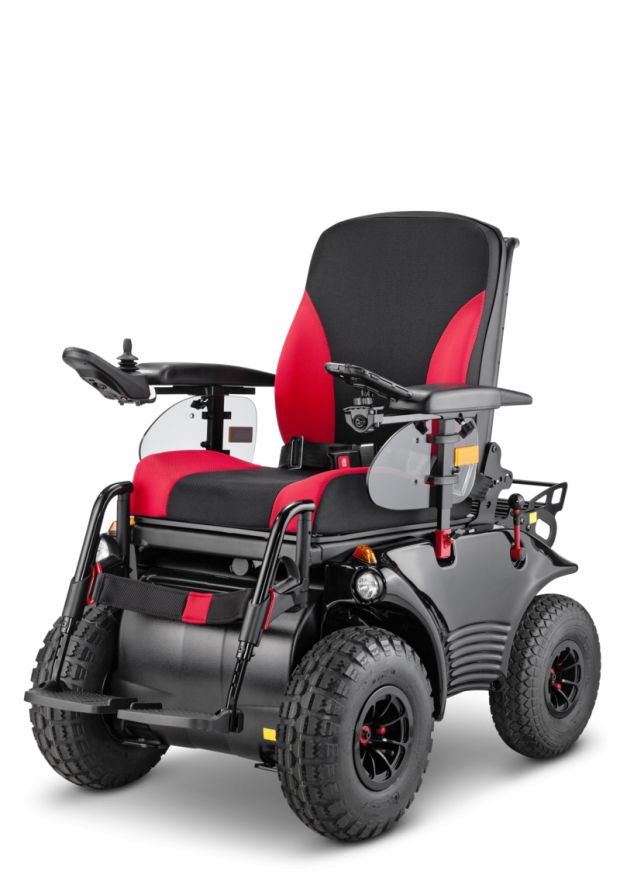 Optimus 2 RS
Rascal Rehab Electric Powerchair
The Optimus 2 RS is a robust powerchair ready to take on the outdoors. The Front-wheel drive Powerchair is the ultimate off-road companion for those looking to ride in comfort and safety across a multitude of terrains such as dirt or snow without sacrificing manoeuvrability.
It features single-wheel suspension and high climbing ability with large pneumatic tyres with studded tread capability.
Crash tested for safety with international ISO 7176-19 crash test requirements.
Specification:
Overall length - 116cm / 46''
Overall width - 68cm / 26.7''
Maximum carrying capacity - 150kgs / 23.6 stone
Maximum speed – 4 / 6 / 8 mph
Maximum kerb height - 11cm / 4.3''
Range – (107Ah Battery pack) - up to 60km / 37 miles
Colour – Black chassis & rims, with Black /Red Ergo Seat
Sure to stand out from the crowd, the RS Edition's unique design incorporates unrivalled high-quality features and a sporty finish - Enquire Today!
Enquire about this product
What our customers say...
Thank you very much Em and the team for the response to the order we placed yesterday afternoon for this scooter which arrive by 0930hrs this morning, the client is over the moon that it arrived so quickly. We are also very grateful for the prompt service.

-(Kevin Fry, Director - Hampshire Mobility Services

I am writing to 'thank you' for your prompt and efficient service, also for your help in getting the right part and patience with myself.
My customer, Mrs S was very grateful at how quick her scooter was back to her, so her husband could use for urgent upcoming appointment.
So thank you from us both for the 100% service.

-Carol - The Hearing & Mobility Store, Gloucester