Rascal Mobility
Cane & Crutch Holder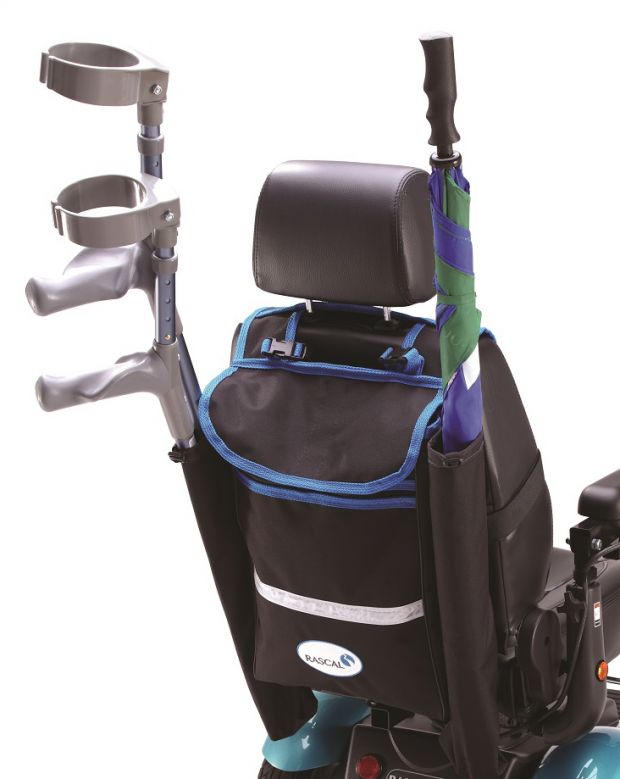 Cane & Crutch Holder
This Rascal Cane & Crutch Holder Bag fixes neatly to the back of your mobility scooter or powerchair. It is a useful holdall which can be used to carry walking sticks or an umbrella.
Easy to fit with adjustable straps, weather-resistant fabric & it features a reflector strip for safety.
Dimensions (mm)
Compatible with
Boot scooters - All Liteway models, Veo X & Veo Sport
Road scooters - Vantage X, Frontier, Pioneer & Ventura
Please enquire about availability and pricing on 0800 252614.
Enquire about this product
What our customers say...
I acquired my first ever mobility scooter, a Rascal Vista DX, having COPD and having been isolated for over 19 months as "very high risk" during covid.

It has been a very liberating and fun experience now using my scooter to accompany Syl without her needing to push my wheelchair, but with me now having the freedom to go out alone, unhindered from home to 99% of the places I would wish to. It is a beautifully designed mobility aid and has literally been a "Game-Changer" in our lives... especially mine.

So we thought the company and design engineers that produced this product to fulfill a very important need in our community desrve to be appreciated. Thank you to all.

-"Peter The Knotter" & Sylvie at peterandSyl.co.uk

I do consider myself very lucky to have discovered REGENT MOBILITY & the RASCAL range of MOBILITY vehicles many years ago now = 25/30 years ago. From my very first scooter Regent Mobility have helped me so much with their knowledge with the different machines my M. S. has taken me through. SUCH SUPPORT!

-(Debbie E, London - Rascal & Regent Mobility customer)