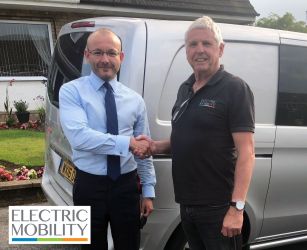 NEW Midlands Area Dealer Manager
We are thrilled to introduce the latest staff member to join out Sales Team
Dave Downing joins Electric Mobility as the Midlands Area Dealer Manager, following the retirement of John Wrigley.
Dave is an accomplished sales professional with a variety of commercial, retail and Government experience, including 6 years within the Mobility Industry. Originally working in Engineering and Manufacturing he is very experienced in the sale of technical products and has a great understanding of the Mobility Industry and Geographical area.
Outside of work Dave is passionate about fitness and grateful to be back in the Gym following a lockdown period of home workouts only.
"I am delighted to join Electric Mobility as a great progression in my career, returning to a rewarding industry I am excited to re-connect with those who I've built relationships with over the years and to develop new partnerships on behalf of Electric Mobility."
Jonathan Hearth, Managing Director says of Dave's new role,
"We are looking forward to seeing Dave's proactive, friendly, and professional sales approach in action.
"I am sure our Network of Authorised Retailers will join me in embracing Dave within the mobility industry, as we have internally."