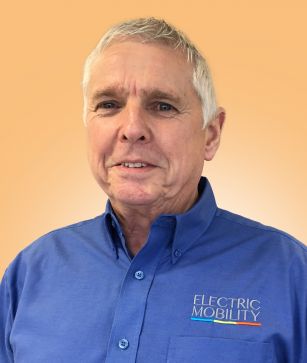 Midlands Area Dealer Manager Retired
John Wrigley has retired from Electric Mobility as Midlands Area Dealer Manager after 4.5 years with the company and 51 years working. John has been an outstanding member of the Electric Mobility and has made a real difference to the company over his four and a half years.
John was met with an abundance of well wishes from his industry contacts who he has built strong relationships with over his career. Networking site LinkedIn and Social Media Platform Facebook enabled people to send their best to John as he retired on Friday 30 July 2021 - the public show of affection demonstrated a clear high level of respect for John.
Jonathan Hearth, Managing Director of Electric Mobility Euro Ltd said of Johns retirement,
"I have certainly leaned on John's counsel and experience on many occasions over the years. John will be missed enormously, and I am sure I can speak on behalf of everyone in thanking John for his contribution and to wish him and Yvonne an enjoyable, healthy and fulfilled retirement."
Electric Mobility's NEW Area Dealer Manager took over the Midlands region on 01 August 2021 ensuring our valued Retailers benefitted from continuous support from the sales team.