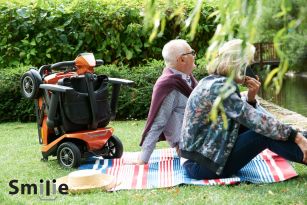 Travelling with Lithium Battery Mobility Scooter
Please refer to your National Government website for accurate travel guidance as this is constantly changing and varied from place to place regarding Covid-19 restrictions.
Although there are question marks regarding travel; restrictions, quarantine etc. The guidance on Lithium Batteries on passenger aircrafts is clear and it is worth familiarising yourself with the regulations if you have the Lithium powered Smilie or Smilie Auto and are considering taking it on an aircraft in the future.

Please refer to the following Battery-Powered Wheelchair and Mobility Aid Guidance Document Transport of Battery-Powered Wheelchair and Mobility Aid Carried by Passengers Revised for the 2021 Regulations document for in-depth information.

Can I take any Smilie model on an aircraft?
No, we have 2 battery options available on each model, only one of which is legally able to go on an aircraft
The 11.6Ah Lithium Battery IS AIRLINE COMPLIANT (available on both models)
The 17.4Ah Lithium Battery IS NOT AIRLINE COMPLIANT

How do I find out more information
Do I need permission for each operator to travel with my Mobility Scooter?
Yes, you must contact your airline within a reasonable timeframe to declare your intention to travel with a mobility scooter and Lithium Batteries. See your airline website for further details.
Why do I need to declare them?
Lithium batteries are classed as 'dangerous good when carried by air' and so approval from the operator is necessary ahead of flying. There are certain criteria which must be submitted for approval and you will be asked to submit key information such as the serial number. Pre-approval is essential for a number of reasons, including to ensure staff are trained and prepared on how to handle and store each battery pack.
Further Reading
We recommend familiarising yourself with the following regulations document and reaching out to the individual operator for further information regarding their own policy and guidelines.
https://www.iata.org/contentassets/6fea26dd84d24b26a7a1fd5788561d6e/mobility-aid-guidance-document.pdf
Information correct at the time of writing but subject to change without prior notice. April 2021