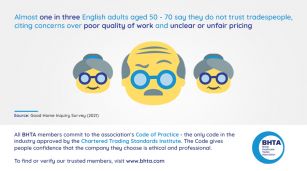 British Healthcare Trades Association urges older people to go ahead with home adaptations by finding its trusted members
Informationed shared from BHTA
New research suggests almost a third (32%) of adults in their 50s and 60s distrust tradespeople, discouraging them to make important home repairs
Over a third of people aged 50 to 70 highlight that tradespeople being a member of an accredited trade association instils them with more confidence
34% of 50 – 70-year-old respondents confirmed having more confidence in members of an accredited trade association, compared to 29% of all ages
The British Healthcare Trades Association (BHTA) is encouraging older people go ahead with making vital home adaptations by seeking out its certified members.
It comes following the publication of new research, suggesting almost a third (32 per cent) of English adults in their 50s and 60s could be put off from making vital home repairs and improvements because of a lack of trust in tradespeople.
The research examines the barriers facing older people when attempting to make essential improvements to their homes that are necessary to ensure their ongoing independence.
Carried out by Ipsos MORI for the Good Home Inquiry, an independent review of England's poor-quality housing stock commissioned by the Centre for Ageing Better, the survey was conducted online with adults in England aged 18-75 to understand people's attitudes around home improvements.
In particular, the survey examined what factors caused distrust and instilled confidence in tradespeople among those aged 50 to 70, with a significant percentage (32%) stating that they did not trust tradespeople.
Examining the top three causes of mistrust among this demographic, the research highlighted that concerns over tradespeople not doing a good job was the biggest factor (59%), closely followed by worries that tradespeople won't give a fair cost for the job (56%), as well as wariness having experienced problems with tradespeople in the past (44%).
Additionally, fears over the price of work increasing (42%) and people being encouraged to pay for unnecessary work (39%) also ranked highly among those aged 50 to 70.
The results emphasise the need for older people to be able to trust tradespeople to carry out home repairs in their homes, to ensure they can remain healthier and independent for longer and reduce pressure on NHS and social care services.
Along with uncovering the causes of mistrust, the research also surveyed which factors instil more confidence in people aged 50 to 70 when hiring a tradesperson. Notably, a significant one in three (34%) people confirmed that the tradesperson being a member of an accredited trade association, such as the BHTA, increased their level of trust.
Representing over 400 companies in the healthcare and assistive technology industry, the BHTA and its members work to create an ethical trading environment that gives consumers confidence...
May 21