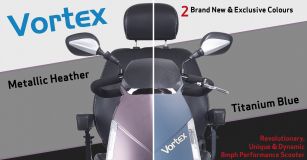 NEW Performance Mobility Scooter - The Vortex
Electric Mobility is delighted to launch its exclusively designed Performance Scooter, the Vortex. Ready to improve your lifestyle by enabling you to gain independence for journeys upto 25.5 miles. Combining new edge design with the latest technology, the Vortex is built to perform with a host of user-friendly features.
The Vortex Driving Characteristics
Overall length - 146cm / 57.5"
Overall width - 65cm / 25.6"
Maximum carrying capacity - 180kgs / 28 stone
Maximum speed - 12.87km/h / 8mph
Range - up to 41km / 25.5 miles
Colour - Titanium Blue / Metallic Heather
The Vortex boasts many of the same great features as the popular Vecta Sport model but is scaled up for those looking for a more substantial chassis and more powerful motor. Its size makes is a great mode of transport if you are looking to replace the need for a car due to reduced mobility or favour shorter electric powered journeys.
"If the Vecta Sport is the nimble and stealth Lioness, the Vortex is the King of the Jungle."
With exceptional legroom, an adjustable tiller and super comfortable seat it is a scooter designed for all users. The waterproof USB power output ensures your mobile phone is always charged, or alternatively provides the power for a GPS unit for the adventurous.
Engineered for manoeuvrability and usability with upto 28 stone weight carrying capacity, run flat pneumatic tyres, Max Grip limited slip differential gearbox and a high-power high torque 900 Watt Motor this is a scooter with the wow-factor.