Proud to be the Exclusive distributor of Meyra Powerchairs.
Electric Mobility is proud to be the exclusive UK distributor of Meyra Powerchairs. Available through our Network of Authorised Rehabilitation Specialists, Meyra powerchairs are created from innovation.
Meyra produce established, high-quality configurable powerchairs designed to benefit a range of disabilities. According to their website, "MEYRA is one of the world's best-known and most successful manufacturers of wheelchairs and suppliers of rehabilitation aids."
From customers looking for a powerchair to enable exploration on a multitude of terrains to those who need a powerchair to assist with ongoing medical conditions there is a powerchair for you.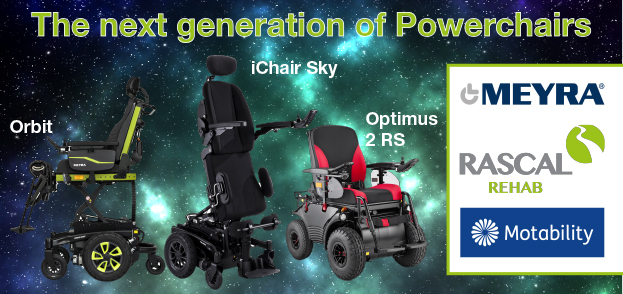 Meyra's comprehensive range of products can simply aid your lifestyle or improve your life, bringing together the expertise and experience of individual core competencies in order to get new perspectives and thereby develop innovative solutions. Meyra says, "The constant communication with disabled people, doctors, clinics, therapists and carers and the close cooperation with qualified medical companies facilitate the development of practical products."
The partnership brings together Meyra's 80+ years of experience with our 35+ years UK market knowledge with links to our established network of specialists and we are excited to bring these models to you!
Some models are available on Motability.
Product Information can be found here.