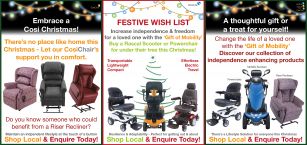 Promotional Poster PDF Download
Retailers within our Authorised Network looking for another way to promote trade and encourage shoppers to purchase a mobility product are encouraged to download the free resources we have put together to gain attention and spread the message of 'Shop Local'
For our Retailer Network we have designed a selection of posters to be displayed in Showroom Windows or Company Vehicles. For further support you can choose to use a selection of digital graphics created to reinforce the messaging of the 'Shop Local and Gift Mobility' campaign. These graphics can be used across your website and social media channels or you may choose to print a variety.
Read more about the camapaign in THIIS Mag, where we encourage you to cut out the high quality consumer focussed poster within December's issue!
https://thiis.co.uk/clever-christmas-campaign-encourage-consumers-to-shop-local-and-give-the-gift-of-mobility/
Download the Campaign POS Pack here to begin your ready-made Christmas Season Promotion!
Hear about marketing incentives like this FIRST plus other essential product news through our Network exclusive Mailing List: Email marketing@electricmobility.co.uk to sign up!