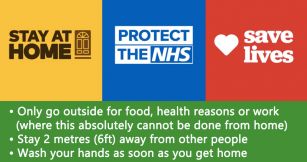 Thank You NHS and Key Workers Across the UK
Electric Mobility extends their gratitude and a huge "Thank you" to all the frontline staff working to keep the UK going and keep us safe. Our heartfelt thank you's extend to NHS staff - from nurses, doctors, administrators & cleaning staff, through to GP surgery workers and pharmacists all working hard & dealing with the extra pressure during this time. In addition we commend the work of those key workers who continue to work during the pandemic, delivery drivers, supermarket staff and teachers in particular who have set an exemplary example of people working together in the face of uncertainty as they ensure some normality exists in amongst this new way of life.
Electric Mobility have key staff members working hard to ensure mobility products can be supplied to Retailers who are trying to maintain the provision of necessities and make life a little bit easier for those self-isolating or suffering with Covid-19.


A particularly poignant "Thank You' to our Network of Retailers who remain open with increased safety precautions in order to service the needs of one of the UK's most vulnerable demographic.

Stay Home, Stay Safe.