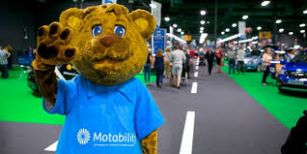 Motability scheme events remain popular and beneficial as Electric Mobility celebrate another year supporting its network at all 5 locations
Looking back at our role with Motability during 2019 we are delighted to report another successful year at all 5 of the One Big Day Events across England and Scotland.

Year upon year we provide full event management and marketing with co-branded leaflets, branded corporate clothing plus an experienced Area Dealer Manager on the day to assist with the buzz of interest surrounding the Rascal stand!

Dave Adams, an Electric Mobility Area Dealer Manager explains, "It's a great opportunity for visitors to come along to the event, get behind the wheel and experience test drives with professional driving instructors, giving visitors the unique opportunity to test drive a range of cars fitted with the most popular driving adaptations available on the Scheme. Visitors to the event also received all the information they needed from Motability experts as well as enjoy a great day out."

2019 saw the release of Motability's latest video starring Electric Mobility's own Paul Aveyard our Area Dealer Manager who never shies away from the camera plus the new Vista Mobility Scooter which is used to being the centre of attention following its popular launch into market. It's a highly useful video demonstrating the 4 mph mid-size scooter in action and showing how easy it is to dismantle for travel and storage with the convenient split battery pack. The video is a great resource if you want to see the scooter in motion. Visit here to watch
For more information on leasing a car, scooter or powered wheelchair through the Motability Scheme, visit motability.co.uk or call the general Customer Service telephone number :0300 456 4566.
We hope to see you at the 2020 events, information of which can be found here.
December 2019