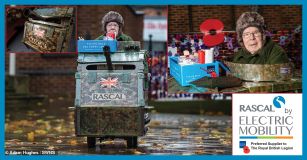 Poppy seller pimps out his Rascal Mobility Scooter to aid his fundraising efforts to a phenomenal reception
Using just £7, recycled cardboard, a Rascal Mobility Scooter and a lot of imagination, 85 year old Eddie Wadsworth has become an extemporary fundraiser for the Poppy Appeal.
Using a creative initiative to appeal to the younger generation and catch the attention of Poppy Appeal supporters, this Rascal converted Tank & dedicated volunteer are helping spread the word for the 101st Remembrance Day celebrations.
"I was a bit reluctant at first to go out in it. I was a bit unsure of the reaction I would get but people have really liked it, which has been brilliant.
"I didn't think the younger people were still following it. I'm pleased its been able to help people take an interest in Remembrance Sunday."
With the support of Forever Mobility, a member of our Authorised Network of Retailers, Eddie has created a lifelike Tank shell which fits on top of his Rascal Mobility Scooter from recycled cardboard and a plastic coating. On dry days he has been out in his hometown of Swadlincote Derby armed with poppies and a donation box raising much needed funds so the charity can continue supporting our veterans.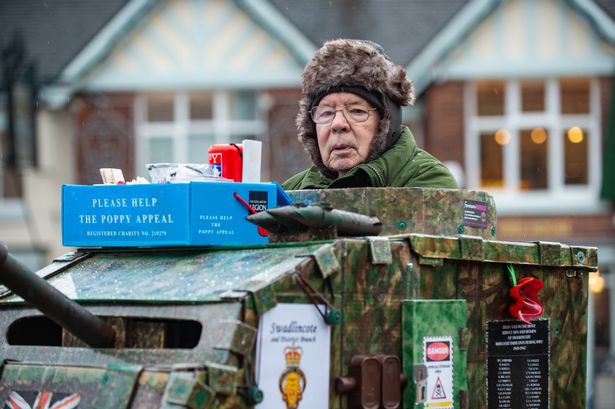 Remembering his father and giving thanks to the support of The Royal British Legion.
Eddie's father died young in 1944 in the Battle of Anzio during WW2 and Eddie's family received support from The Royal British Legion with fun events aimed at supporting young children who lost parents through the war effort.
Electric Mobility is the Preferred Supplier of The Royal British Legion, supplying a network of Veterans Rascal Mobility Scooters funded through the excellent work of the Charity.
Giving Back
Eddie has volunteered for the charity for the past 7 years and has plans to create other eye catching scooter creations in the future, such as an ice cream van or, depending on the weather we get, a snow plough!
Electric Mobility supports Veterans year on year by loaning more than 20 x 388 mobility scooters to The British Limbless Ex-Serviceman Association (BLESMA) so they can partake in the annual Cenotaph celebration. The Mobility Scooters allow veterans to partake in the significant event with ease where otherwise they may not have been able to.
All image credit:Adam Hughes / SWNS. Source: https://www.birminghammail.co.uk/news/uk-news/poppy-seller-turns-mobility-scooter-17215578 November 2019