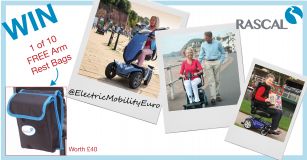 Rascal Photo Competition WIn 1 of 10 Free Arm Rest Bags
NEW COMPETITION

Our valued followers on Facebook – plus any new followers – are invited to enter our latest social media competition running from October to 31 December 2019.

Social Media users are invited to tag @ElectricMobilityEuro in a picture of them on their Rascal scooter or powerchair, telling us why they Love their Rascal! Using the #Vectability the competition aims to highlight how beneficial and life changing mobility products can be, showing off brilliant products in their everyday setting.
Up for grabs are 10 Rascal Arm Rest Bags - the perfect accessory - which will be given to 10 lucky winners- more chances to win, why not tag us in multiple images to increase your chances!
How to Enter on Facebook:
1. Upload/post a picture of you on or with your Rascal Mobility Scooter or Powerchair (old or new, we want to see!)
2. Tag @ElectricMobilityEuro
3. Write a caption telling us why you love your Rascal & what benefits it has bought to your life
4. Include the hashtag #Vectability
We can't wait to hear about the reasons you love your Rascal and see your amazing photos, get tagging for your chance to win!
We already see a host of fabulous images from product handovers on social media coming from our Authorised Network of Dealers, and now we want to see more of these pictures. Enter for yourself, or on behalf of a loved one!
Dealers within our authorised Network – why not encourage your customers to enter!
October 2019