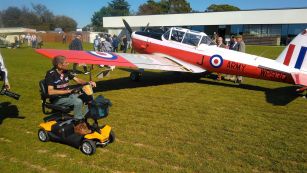 A Good Day out at Goodwood Revival
There were a lot of stylish wheels at Goodwood Revival 2019 but we think the Vista stole the show…

Les Hunter, from Lyme Regis shared photos with us from his trip where it was the first time he benefitted from the use of a mobility scooter! He admitted that he can only usually manage a few hours of walking, but the Vista allowed him to spend all day (from 9-6) exploring with his son!

Les said how the day out was a great trip down memory lane, as there were cars he used to work on during his career as a garage owner! Now 81, Les remembers seeing some of the planes in action when he was a child.

A great example of where a mobility scooter can be really beneficial for conserving energy to put towards much more exciting tasks such as admiring the fantastic planes and cars!
September 2019