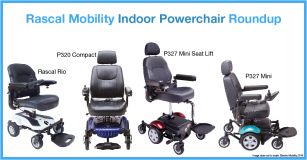 Which Rascal Powerchairs are best for indoor use?
Powerchairs can be a necessity for people with disabilities often in cases people have to use their powerchair all day every day so a powerchair can provide ample amounts of independence indoors and outdoors. For those considering a powerchair for mainly indoor use these are great options. Available to test drive and purchase from a Local Authorised Rascal Retailer.

The Mid-wheel drive P327 Mini & P327 Mini Seat Lift make great options for indoor use powerchairs for petit users because of the benefit of the overall small size and agility of the powerchair. Both powerchairs have similar dimensions and capabilities, but the added feature with the P327 Mini Seat Lift is an added Column Lift to raise you up by 5 inches, perfect for maintaining independence enabling users to reach higher objects around the house.
P327 Mini: Overall length - 109cm / 42.9'' Overall width - 62.4cm / 24.5''
P327 Mini Seat Lift: Overall length - 110cm / 43.6'' Overall width - 62.4cm / 24.5''

Rascal Rio – The latest powerchair to join the Rascal range the Rio is a compact & stylish powerchair offering support and durability for its users. It dismantles into three pieces for convenient transportation and storage with a turning circle of 1.06 metres so users can navigate their home with ease.
Overall length – 88.9cm / 35"
Overall width - 58.4 / 23"

The Rascal P320 Compact measures up to half the size of most powerchairs in today's market. With a quick release battery pack and easy to dismantle components, a flip-up footplate transportation is simply taken care of. The Rear-wheel drive powerchair has a desirable turning circle of just 97cm if you have limited space.
Overall length - 82.5cm / 32.5''
Overall width - 58.5cm / 23''

All of the above can be used both indoors & outdoors. Contact your Local Authorised Rascal Dealership for further information.