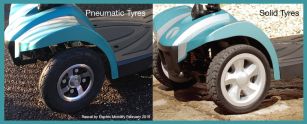 Pneumatic tyres vs Solid tyres
Pneumatic tyres (also known as air tyres) is a popular phrase in the mobility industry which you may come across a lot in your search for a mobility scooter or powerchair. But what are pneumatic tyres? And what's the difference between pneumatic and solid tyres?
Pneumatic tyres are filled with air inside an inner tube – the inner tube offers protection and shock absorbing qualities. Pneumatic tyres make for a smoother ride and are especially useful on flat, even surfaces. The terrain of where you will be driving your mobility scooter should be considered ahead of purchasing as prolonged use on rough terrain may decrease the lifespan of pneumatic tyres.
Solid tyres for mobility scooters have reduced natural shock absorption so the ride won't feel as smooth. They are more durable and perform better on rough terrain. User weight is another thing to consider as it negatively affects solid tyres over prolonged usage in more cases than pneumatic tyres
Purchase any of the Rascal Mobility Scooters from an Authorised Rascal Retailer and they will be equipped to repair punctures on pneumatic tyres should they occur but it is best to anticipate what you will be using the mobility scooter for and where it will be driven ahead of purchasing. Discuss the options with your Local Authorised Retailer today.
Something different altogether, or for peace of mind consider the Vecta Sports' unique 'RunOn' run flat pneumatic tyres which allow users to return home in the event of a puncture. Drive at least one full charge with a puncture with the tyre technology and avoid call outs or being stranded - more information in the Vecta Sport Mini Brochure.