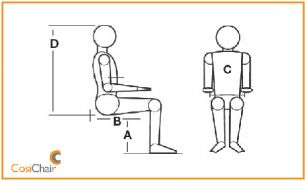 A Made to order / Made to measure guide
If you have read the eye-catching CosiChair Full Collection Brochures outlining the entire Riser Recliner & Fireside Range, or if you've picked up one of the informative specification sheets per product, you may be familiar with the term 'Made to order / Made to measure'. But what does it mean for you?

From Stock – We have hundreds of chairs in our purpose built warehouse boxed and ready to send to retailers within our Authorised Network. These chairs are held in our standard sizes and colours – so if you want something quick, these are your best options. But if you want something different, or more personal to you… take advantage of our Made to order / Made to measure service.

Made to order – if you want a chair with high-quality craftsmanship, extended warranty and levels of comfort, but you want it in a different colour to the Cosi Chair stocked fabrics, we can make that happen. We have a range of colours and fabrics available 'Made to order' so if you want to match existing furniture or go for something different we can turn this around on behalf of our Dealers*.

Made to Measure – Cosi Chairs including the Medina, Jubilee, New Ambassador and our Fireside Range (excluding Breydon) can be built to suit different shapes and sizes by alternating seat width, depth or overall height. It's so important a chair is the right size for you, so if the measurement's on our Small, Medium or Large chairs aren't right, we can bespoke it so it's the perfect fit.

Sofas - All of the CosiChair 2, 3, static & mechanical sofas are Made to order. We advise ordering your Riser Recliner and Matching Sofa at the same time so they can be made from the same roll of fabric and reduce the chance of the fabrics differing.

*Delivery timeframe of Made to order / Made to measure furniture available upon request through your local Authorised Retailer. Prices will be higher for M2O/M2M.