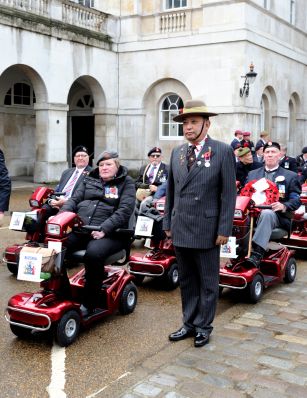 Electric Mobility dedicated to supporting BLESMA for 100th Remembrance Parade - A nation's thank you
Electric Mobility was once again proud and honoured to support The British Limbless Ex-Service Men's Association (BLESMA) during the 100th anniversary Cenotaph Parade in London on Remembrance Sunday 2018 by providing Rascal 388 Deluxe Mobility Scooters for the limbless Veterans to ensure they could partake in the parade with ease.
Dave Pierce, Electric Mobility's Warehouse Manager dedicates his own time to coordinate the 20 Mobility Scooters and deliver them to Horse Guards Parade for use as part of the partnership with BLESMA for Sundays' Remembrance Parade.
This year Britain commemorated 100 years since the end of hostilities in the First World War and Electric Mobility celebrated their 15th year working alongside the organisation. BLESMA, who are the only national Armed Forces Charity that supports limbless veterans who have lost limbs, or lost the use of limbs or eyes for the duration of their lives by providing rehabilitation activities and welfare support also celebrated their 100th year of service.
As with most years, some 40 BLESMA Members took part in this years' particularly poignant service. This year consisted of 20 Members on Mobility Scooters, along with the walking wounded, widows and carers behind them. BLESMA members, along with 10,000 others marched in honour of their colleagues and to remember those who were lost in the First World War.
Watch BLESMA's video below sharing the successes of 2017, featuring the fleet of Mobility Scooters.
To mark the centenary, families whose ancestors died or were injured in the First World War were also remembered by their relatives who took part in the "people's procession".
A total of 10,000 people, chosen by ballot, had the opportunity to pay their respects to all those who served in the First World War and help express the nations thanks to the generation that served, and those that never returned by taking part in the Nation's Thank You procession past the Cenotaph.
Elaine Leighton, Marketing & Communications Manager said,
"We are strongly committed to supporting this great Veteran Charity and will continue to provide Mobility Scooters to give the veterans the opportunity to fully take part in the parade to pay their respects to those that are lost but not forgotten.
Electric Mobility as a company is extremely passionate about aiding serving and ex-military personnel with this important event in the calendar, highlighting just one example of how our products really can improve the lives of heroes for the better by enabling them to remain independent."