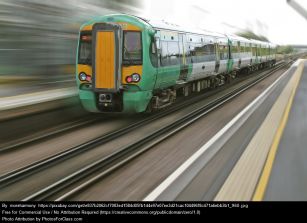 Technology to help train travellers with disabilities, new app coming soon.
Reduce the anxiety of train travel with GPS tracking & staff support with the launch of a new app to help less able travellers.

A new app could soon be launching to aid disabled travellers when using train transport. Disabled travellers have been featured in the media heavily recently because of several instances where staff members were not available to help, wheelchair sections were blocked or intimidation has occurred. It paints a picture that travelling with a disability is a negative experience.

The anxiety surrounding travelling with a wheelchair, powerchair, mobility scooter or invisible disability can be caused by several factors. Ramps not being provided, spaces being taken on the train and train delays make everyday journeys more difficult for disabled passengers.

The app, which has been trialled earlier this year allows travellers requiring more support to use their phone GPS and messaging service to communicate with platform staff ahead of their journey, reducing the anxiety and updating previously unreliable systems in place which did not update in real-time.

The app could be life-changing and useful in the event of a delay, change of platform or missed train with disabled travellers excited at the thought of spontaneous trips on the train without as much worry.

For more information on the app, not yet widely available, visit the BBC website.